New 2021 Nissan X-TRAIL/Rogue Leaks Early,, Will Go on Sale Later This Year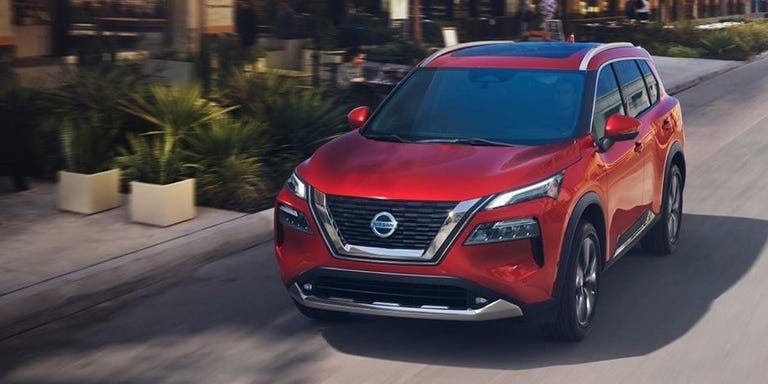 Photos that purport to show the the new 2021 Nissan X-TRAILRogue are circulating online, giving us a preview of the redesigned compact crossover ahead of its first official appearance. A Nissan spokesperson confirmed to C/D that the 2021 X-TRAIL/Rogue will debut within the next few months, and that the new model is scheduled to start production in fall 2020.
The existing X-TRAIL/Rogue debuted way back in 2013, so this comprehensive update is a long time coming. The new model's styling appears to be similar to what we saw in earlier spy photos, with a prominent V-shaped grille and a split-level headlight treatment. Its overall shape is boxier than the current model, with a squared-off rear end. Inside, it looks to ape the design of the recently redesigned Sentra and Altima sedans, with a tablet-style infotainment screen that dominates the dashboard and diamond-quilted leather seats.
It is understood that the X-TRAIL/ROGUE image leak came from a Nissan Canada in-field road test photo posted on a worldcoop forum, which was later removed. The new X-TRAIL/ROGUE will have a new intelligent all-wheel drive system that offers five modes including desert, rock, snow, dirt, city roads and more, according to a leak on the forum. The console also gets a larger update, with a 9-inch touchscreen and support for Apple and Android.
More information let's look forward to the launch of the new 2021 car.
https://www.paudimodel.com/wp-content/uploads/2020/05/2021-nissan-rogue-leaked-photo-1587137246.jpg
384
768
Paudi Model
http://www.paudimodel.com/wp-content/uploads/2017/04/PAUDI110X106.png
Paudi Model
2020-05-29 13:30:35
2020-05-29 14:00:28
New 2021 Nissan X-TRAIL/Rogue Leaks Early,, Will Go on Sale Later This Year